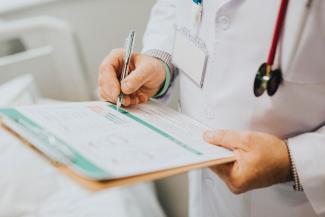 Healthcare: The Bills That Go Bump In The Night
by Stacy Brasher on Aug 5, 2019
Do you remember the nights you'd spend begging your parents to let you stay up to watch a scary movie? You promised mom and dad you would sleep just fine afterward, but when the credits rolled, you just knew the monster would be waiting for you under the bed. As we go through life, we find ourselves losing sleep to different monsters. Instead of movie horrors, it's that one final in college that you know you're bound to fail, or the phone call you've been waiting on from a potential employer. It might be a decision that could redirect your life plan, like whether or not to pull the trigger on that next car or house. While these stressors are different for everyone, there are a few that none of us can escape. One of the biggest "monsters" under the bed for all Americans is healthcare. 
It's no secret that the American healthcare industry has become a frenzy, outgrowing any other sector in the economy by leaps and bounds. In fact, as of 2018, healthcare industries represented 18.2% of the economy. But why is that? To start, look at a piece of the medical care pie like big pharma. Prescription drug costs have been skyrocketing for years. You've likely heard of brand name examples from companies like Turing, AMAG, and Marathon that hit the news due to price hikes reaching figures like 5-6,000% or more. Of course, these private firms are largely entitled to charge what they wish in our current regulatory environment. However, there are consequences when companies like drug makers choose to set such high prices, especially when coupled with equally precipitous rises in care costs. Approximately one in five Americans carry crippling medical debt, stifling the potential for economic growth across the board. How do we begin to afford the drugs and care we need and spread our wealth to raise all ships? Better coverage. The search for that coverage turns many to the private sector. But again, as care costs have gone up, the insurance industry has seen a drastic increase in prices in the last ten years. Employers covered 75% of healthcare costs for their employees in 2018; the average costs for employer-sponsored family plans grew by about 5% last year to nearly $20,000 annually. Even if you have affordable coverage and little to no medical debt, this rapid growth can still affect you. Outside of the fact that your plan costs could increase or the coverage you are offered could change, life can always happen. Whether that be a car accident or a health emergency like a heart attack or stroke, if you are not prepared for the unexpected side of life, you can find yourself swimming in bills overnight.  
The good news here is that there are ways to start protecting yourself, your family, and your financial future. One of the best ways to prepare yourself is to open an HSA (Healthcare Savings Account). These accounts are tax-free, and you're able to use them after retirement to help cover additional expenses like assisted living. What makes these accounts so appealing is that, unlike Flex Spending cards, the money rolls over from year to year, so you never lose what you do not spend. They also lower your tax obligations. You can contribute funds tax-free to your HSA, you pay no taxes on the account's growth, and as long as you spend withdrawals on eligible expenses, there are no taxes on that money either. These accounts can also be used to invest in mutual funds and stocks, generating more money for your financial future. 
So how do you open an HSA? First, you only qualify with a High Deductible Health Plan (HDHP). Generally speaking, this is any coverage that meets the IRS' "high deductible" standard. My colleagues and I can help you take your first steps toward establishing an HSA if it's the right call in your situation. Before we start the conversation, remember that there are penalties for withdrawing from an HSA prior to retirement and for spending on non-eligible expenses. 
Other ways to ensure your financial stability when it comes to expenses like healthcare are through products like properly structured life insurance plans. These plans can help protect you and your loved ones before retirement age hits. Even as the government takes small steps toward improving healthcare access in America, like the Dept. of Veterans Affairs allowing veterans to see doctors outside of VA hospitals and Congress addressing how out-of-network medical care is billed, the road ahead is long. Relying solely on your coverage may not provide you with the resources you need to stay secure as you age. Don't allow healthcare to be the monster that keeps you up at night. Let's talk today to make sure you're prepared when medical expenses inevitably come knocking. 
Resources: